The American Freedom Convoy passes through Minnesota
About 9:30 central time this morning, Friday, March 4, 2022, roughly 500 American patriots stood in very chilly weather waving American flags and standing for freedom as miles of truckers headed southeast through Minnesota on their way to stand for freedom in Washington DC. Long live Freedom & Liberty in America!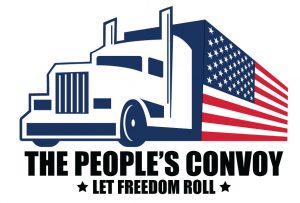 Follow The People's Convoy!
Click the image to follow The People's Convoy as they finish the final leg of their drive across the USA from California to Washington DC. All legs of the convoy will converge in the DC Beltway area on Saturday, March 5th.
See the Truckers Media Gallery HERE.