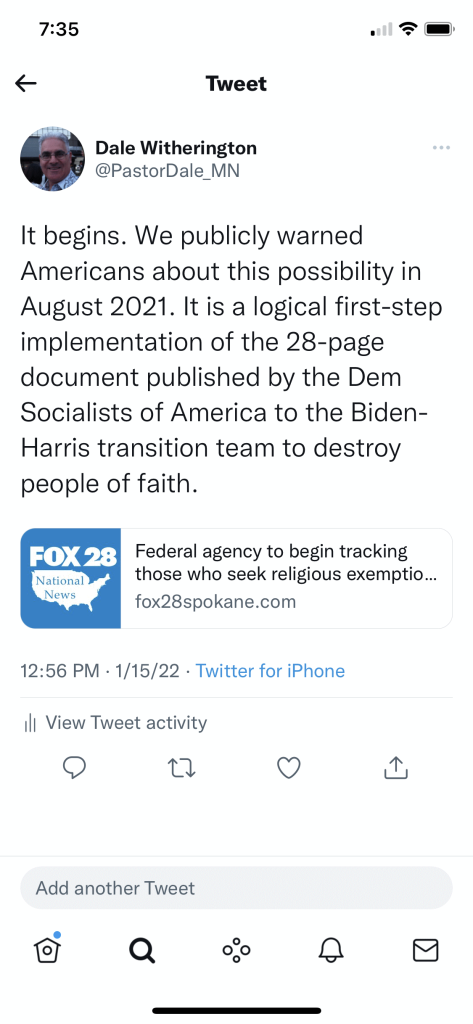 Back in August 2021 I publicly warned Americans that this was the logical first-step. It begins with those working for the government directly or as contractors. How long before they want to build a list for everyone working for the largest corporations like Amazon, Walmart, Home Depot and others?
"An obscure agency of the U.S. government, whose stated mission is to reduce recidivism and work with criminal justice partners to enhance public safety, will begin tracking all federal employees who file for religious exemptions to President Joe Biden's COVID-19 vaccine mandate on federal workers and contractors."
"Now, the federal government, through the Court Services and Offender Supervision Agency for the District of Columbia (CSOSA), will oversee religious accommodation requests for all federal workers and contractors subjected to Biden's mandate. CSOSA is a part of the executive branch."
---
FROM FOX NEWS Jan. 15, 2022 – Discovery Institute senior fellow Wesley J. Smith reacts to reports of federal agency tracking those who seek religious exemptions.
---
Religious Exemptions Discussed on Washington Watch
This was September 28, 2021. Liberty Counsel Assistant Vice President of Legal Affairs joined Tony Perkins to discuss religious exemptions for the shot mandate.
BE SURE TO LEAVE YOUR THOUGHTS AND COMMENTS BELOW.