We received this via email today from 1776 Action and thought you would like to read this Christmas story too.
On behalf of all of us at 1776 Action, we'd like to wish you and your family a very Merry Christmas (before we get canceled for saying it, of course). We hope that your holiday is filled with family and friends and all the many blessings of our great Nation.
As Christians celebrate the birth of Jesus, this time of year is also an opportune time to remember that all of us were made in God's image. That's one of our guiding beliefs here at 1776 Action – that every human being was made equal under God, and is entitled to equal rights under our Constitution. While some malign the ideals of our Founders as old fashioned, that's still a truly profound and world-changing idea, just as it was in 1776, and it is what makes America exceptional.
Christmas also holds a special place in our hearts here at 1776 Action because of what happened on Christmas Day in 1776. That was the night that General George Washington crossed the icy Delaware River with his ragtag band of American Patriots in one of the most daring raids in U.S. military history.
At that early point in the war, many colonists had lost hope that the Continental Army could stand a chance against the mighty British Empire. It looked as if the Revolution had failed. Were it not for Washington's unwavering belief in his men and the American cause, it might have.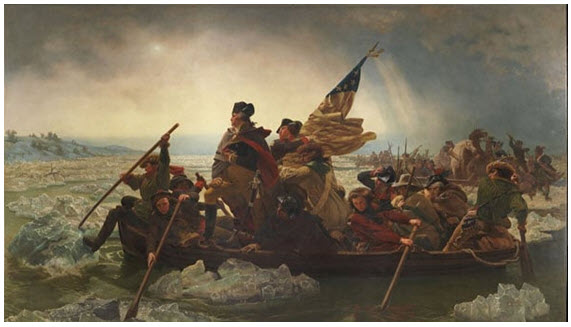 Cold, wet, and hungry, a few thousand battered soldiers gathered along the river bank around 11 p.m. on December 25. Just 12 hours later, they had secured the first strategic victory of the war for the Patriots and, more importantly, lifted the spirits of the American colonists – saving the Revolution. It was the first major turning point in the war, and set the stage for the final victory at Yorktown five long years later. Not a bad Christmas present for our fledgling nation.
This Christmas, we remember Washington's steadfast courage, and are spirited onward in our own mission, to carry on his legacy and defend it from those who would wish to see it destroyed. The sacrifices of our forefathers have made possible the freedoms we enjoy today, a simple truth that every American should grow up knowing. We humbly thank you for your support in our fight.
We are also thinking of those who won't be with their families this weekend because they are sacrificing for the rest of us. The police officers and firefighters ready to respond at a moment's notice. The nurses, doctors, and healthcare workers caring for the sick and wounded. The truck drivers, factory workers, and other Americans who work around the clock to keep our shelves stocked and our economy running. And of course the men and women of our Armed Forces, defending our sacred freedom and American way of life, safeguarding it for future generations. We salute you.
God bless, and Merry Christmas!
– The team at 1776 Action